2023 Ivey Alumni Achievement Award Recipients  
David Dobrowolski & John Stelzer, Both HBA '04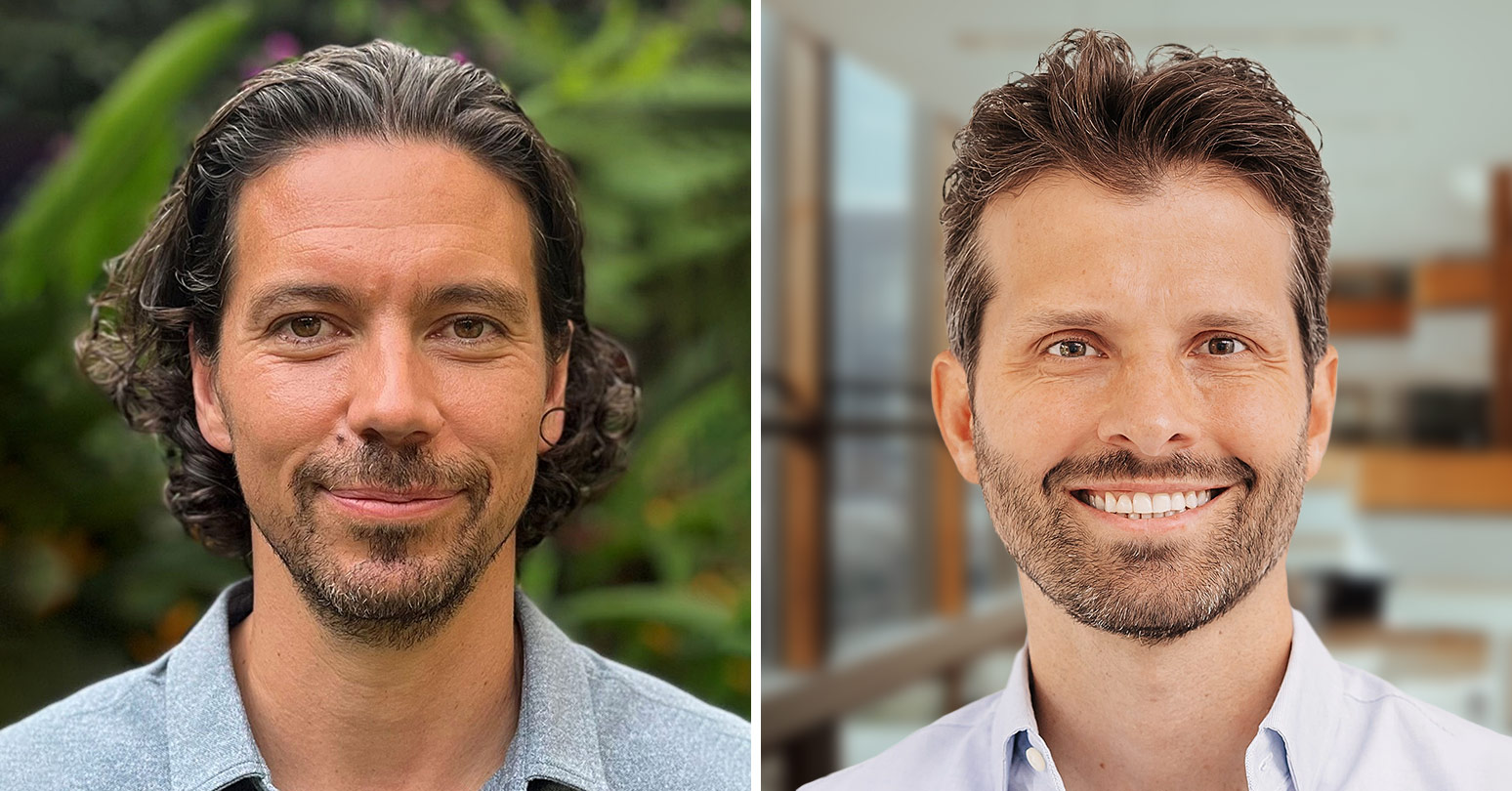 David Dobrowolski and John Stelzer, both HBA '04, are the joint recipients of the 2023 Ivey Alumni Achievement Award (IAAA). In 2010, Dobrowolski and Stelzer co-founded Solon Capital Partners (SCP), a private equity business whose mission is to build companies that drive social, economic and environmental impact in one of the poorest regions in the world – West Africa.
The IAAA, which was established in 2019, is given to alumni who bring Ivey's mission statement to life – they think globally, act strategically, and address critical issues facing organizations and society.
"SCP is the embodiment of Ivey's mission and core values," says Dobrowolski and Stelzer's former classmate Kevin Cahill, HBA '04. "It is a company that required courage to create, integrity and sense of community to guide, and an unbelievable amount of resilience to help survive."
Dobrowolski and Stelzer spent their final semester at Ivey on exchange together in Hong Kong, where they travelled extensively throughout the region. Stelzer went on to spend five years at Accenture, working in Toronto and New York in the New Businesses Group. Dobrowolski, before starting his career at Credit Suisse First Boston in New York and then Blackstone in London, first spent a month teaching in a Liberian refugee camp in Buduburam, Ghana. In 2008, Dobrowolski returned to West Africa with the Tony Blair Africa Governance Initiative, working in the Office of the President of Sierra Leone in Freetown. Joined in country by Stelzer in late 2009, the pair travelled overland together through Guinea and Mali to Timbuktu and back, experiencing the need and opportunity across the region for a new approach to investing and business creation.
In 2010, they established SCP along with Shaun Ramanat (a childhood friend of Dobrowolski's from Calgary) with the goal of maximizing both impact and financial performance by taking a more hands-on, long-term approach than traditional investment models. The team was later joined by Arthur Rojas, also from Calgary, and Shaunt Kalloghlian, HBA '07, who spent nearly 10 years with the company. Dobrowolski and Stelzer's primary roles within SCP are to guide strategy, raise capital, and develop new investments.
"There are exciting opportunities in West Africa to have a meaningful impact on communities and the environment," Stelzer commented. "But the realities of operating on-the-ground require a close-knit team, long-term approach, and a loyal group of supporters, which we're very fortunate to have."
"It's a challenging part of the world to operate in," added Dobrowolski. "But one that also sits on the front lines of many of the most pressing global crises we face today – including climate change, biodiversity loss, food security, and economic migrancy. Building scalable, sustainable businesses that directly tackle these issues is exhilarating and something we're uniquely privileged to be a part of."
SCP has built and invested in businesses across various sectors, including:
Rising Academy Network: A quality focused, affordable schools and education business
West Africa Blue: A nature-based solutions business which partners with local communities to preserve, restore, and sustainably manage large-scale coastal ecosystems across West Africa, financed through the issuance of high-quality carbon credits
Flash Vehicles: An innovative vehicle leasing and fleet management company that primarily serves NGOs, development organizations, and the private sector
HC Capital Properties: A real estate platform focused on building sustainable communities for low-to-middle income populations and the issuer of Francophone Africa's first Green Bond
Rising Academy Network (Rising)
SCP co-founded Rising in 2014 with Paul Skidmore and Stephanie Dobrowolski (David's sister), and it is now the second largest network of affordable private schools in Africa and one of the fastest growing, quality-focused education platforms on the continent. Eighty-eight per cent of children in Africa are stuck in schools where by Grade 9, they haven't learned to read, write, or do basic math. The result is over 130-million kids left behind.
Rising addresses this problem by providing comprehensive teacher training, guides for every lesson, and rapid feedback to address issues. The company delivers its solutions through a growing network of owned and operated low-cost private schools, partnerships with governments to improve the quality of their existing schools at scale, and developing curriculum and digital learning tools to enable other education providers.
Starting as a home outreach program during the Ebola epidemic in 2014, Rising now reaches nearly 1,000 schools and 300,000 children across Sierra Leone, Liberia, Ghana, Uganda, and Rwanda.
In response to school closures during COVID-19, Rising developed "Rising on Air," providing radio-based lessons in over 25 countries and 12 different languages that reached an estimated 10-million children. That content was then used to develop "Rising on Air Interactive", or "Rori", an AI-powered digital tutor. Rori has won a number of awards including the Futures Forum on Learning Tools Competition, supported by The Schmidt Futures Foundation and Citadel CEO Ken Griffin, where it was selected out of nearly 1,000 applicants.
West Africa Blue (Blue)
SCP co-founded Blue in 2021 with Elizabeth Littlefield, former CEO of the US Development Finance Corporation under the Obama Administration. The company partners with local communities to preserve, restore, and sustainably manage large-scale coastal ecosystems across West Africa, financed through the issuance of high-quality carbon credits.
West Africa Blue's first project in Sierra Leone builds on a 10+ year trusted relationship with local communities and will be the largest blue carbon conservation project in the world. In addition to contributing to climate change mitigation and adaptation, Blue's projects help protect critical biodiversity (including over 100 species on the IUCN Red List) and offer an unmatched opportunity to generate sustainable sources of income, employment, and socioeconomic benefits for remote coastal communities.
Beyond Sierra Leone, Blue is developing large-scale conservation and restoration projects throughout West Africa, including in Guinea, The Gambia, Liberia, and Côte d'Ivoire.
Social and Environmental Impact
"The social impact of SCP and its portfolio companies to date has been incredible and the positioning of the company to effect change in the future is massive," says Cahill.
Dobrowolski and Stelzer hope to expand Rising's reach from 300,000 students to over one-million students in the coming years and aim to scale Blue into the leading developer of community-centric blue carbon projects in Africa, protecting and restoring over 500,000 acres of coastal ecosystems. The pair plans to continue SCP's expansion into new sectors and highly scalable platforms targeting the intersection of climate and community.
Dobrowolski and Stelzer will be celebrated for their achievements on Global Ivey Day, May 11, 2023, during the Power Lunch event at One King West, Toronto.
The selected Ivey Alumni Achievement Award recipient(s) has contributed significantly to their companies and communities throughout their career, while upholding the highest standards set forth by the Ivey Pledge. This alum is described as a leader who — whether an industry pioneer, community builder, growth driver, or disruptive accelerator — brings to life Ivey's mission statement. They think globally, act strategically, and address critical issues facing organizations and society. As such, the Award recipient represents the best of our alumni community.
For more information about the Award, please contact alumni@ivey.ca.